The private apartment placed in Skala-Podilska, Ukraine. Designed by Ihor Havrylenko for Natalia Shashkin — businesswoman with a strong character who whats a new place for relaxing. Without a husband, children and irritating noise.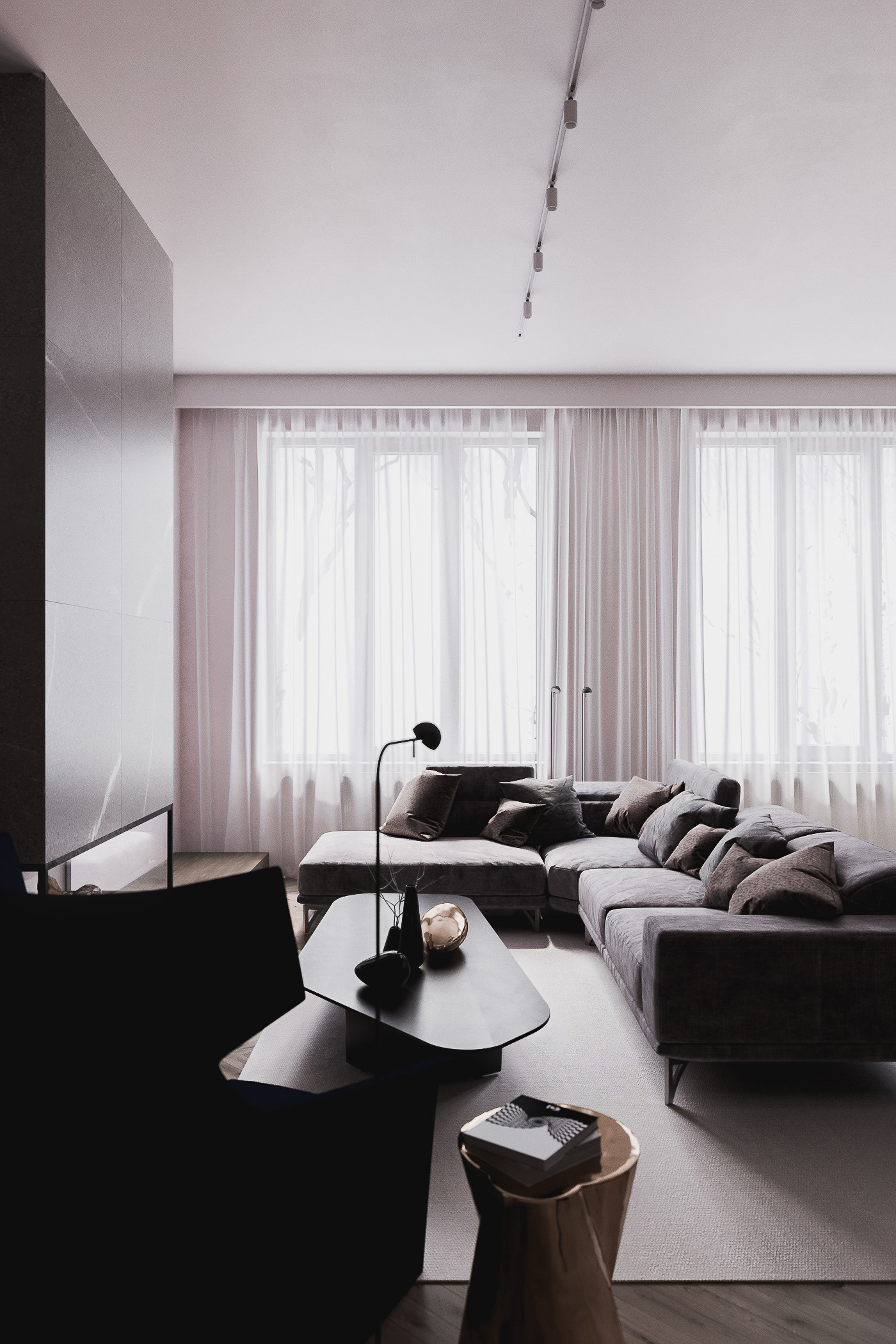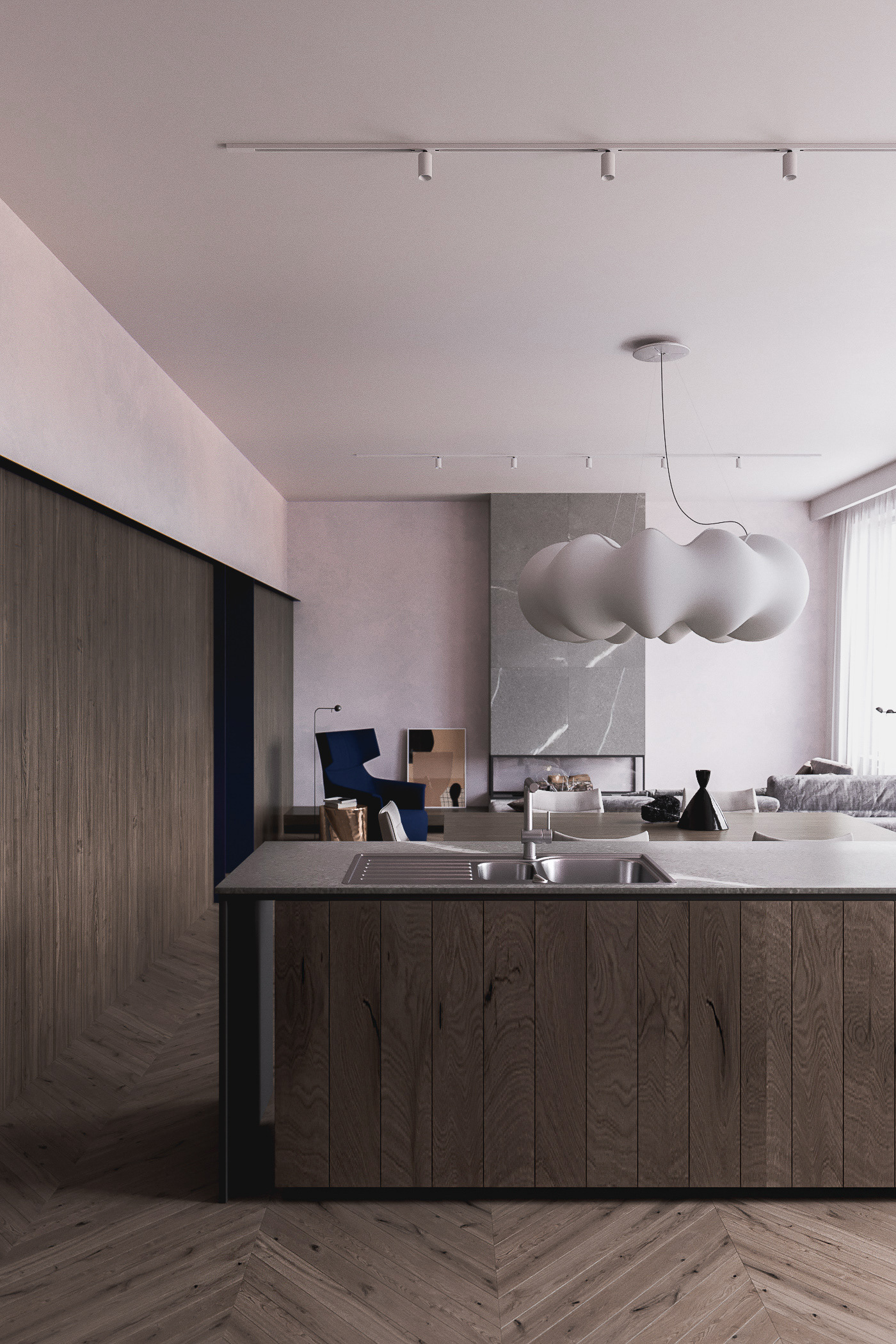 This private apartment located in Ukrainian city Skala-Podilska. It is not a big city surrounded by fields, forests, and mountains. This place is really nice. Fresh air, wonderful views and a true connection with nature is there.
The apartment located in an old big office building which has 2 floors. Nobody lives here and nobody works here. Because this building was empty for a long time before the customer bought it. So... just one apartment is based here. Like an island. The apartment has six different rooms: the main entrance area, bathroom, kitchen-studio combine with living room, guest room-cabinet and her room with a wardrobe.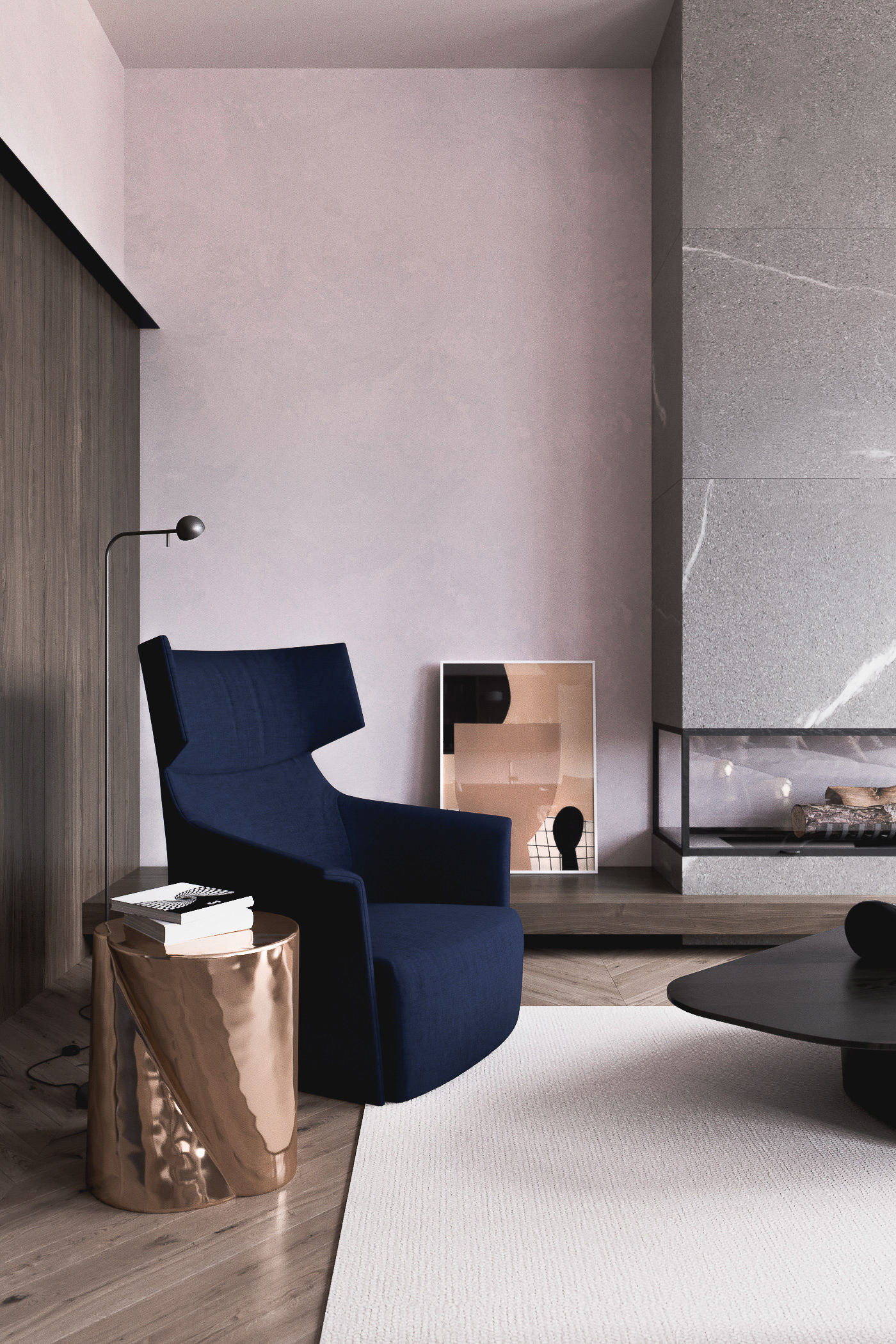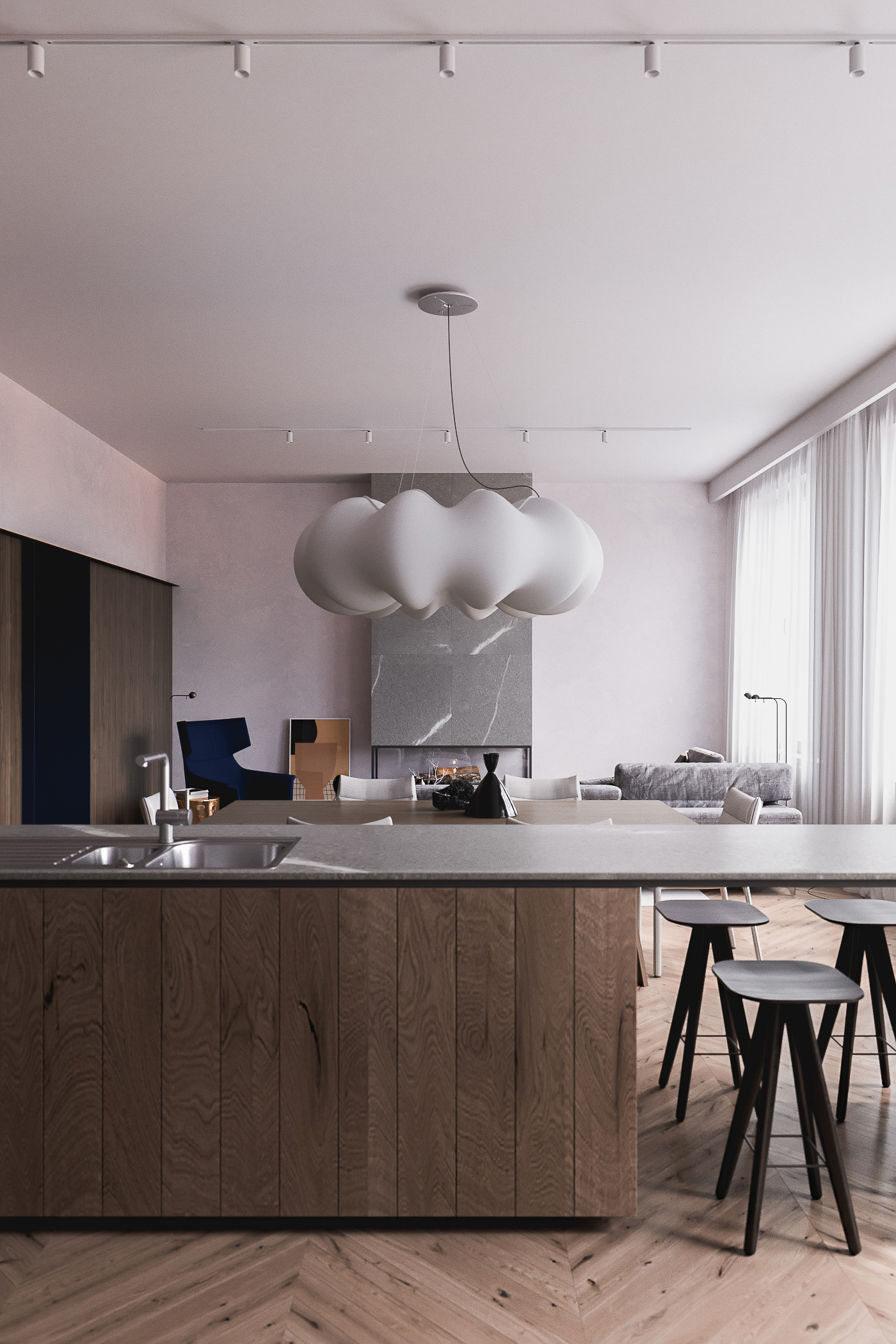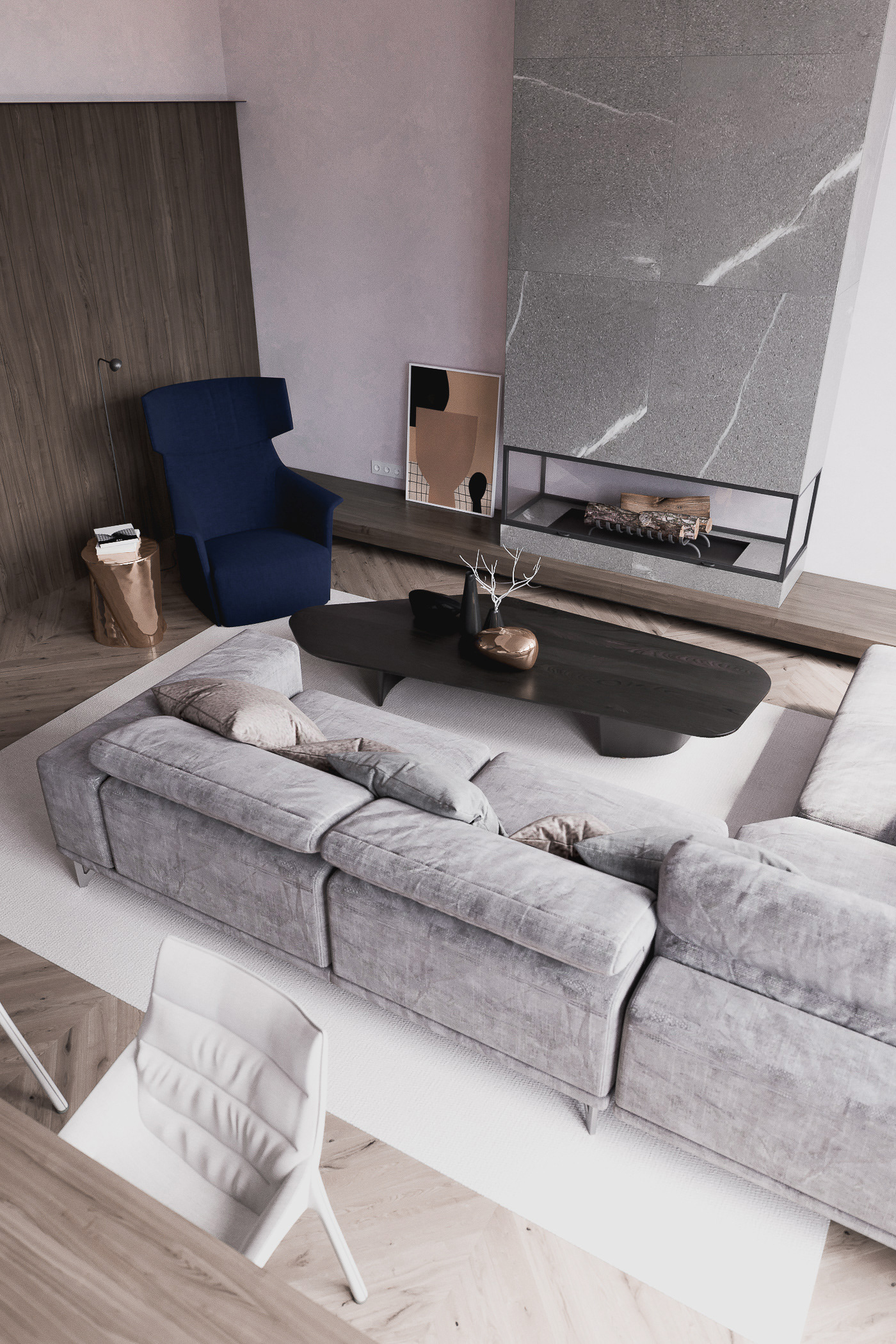 What Woman Whats? She wanted to make a connection with the interior and exterior. I did it by using natural colors and shape. She wanted to have a great place with true wood texture and white color. I did it. She wanted to bring into this home contemporary form and philosophy. I made this place with a strong philosophy of love to life and the world. All of us need a place like this because this place is about rest, calm, strong nature energy and connection with the world.
The designer decided to use three main colors: white - clear color which means light and air, wooden brown - nature and natural texture, and blue - water, the energy of moving and restoring. Main conception of this apartment is to make a contemporary place where you can feel yourself like in the wild nature. That is why the designer used natural material like stone and linen blankets. The details are the most important thing!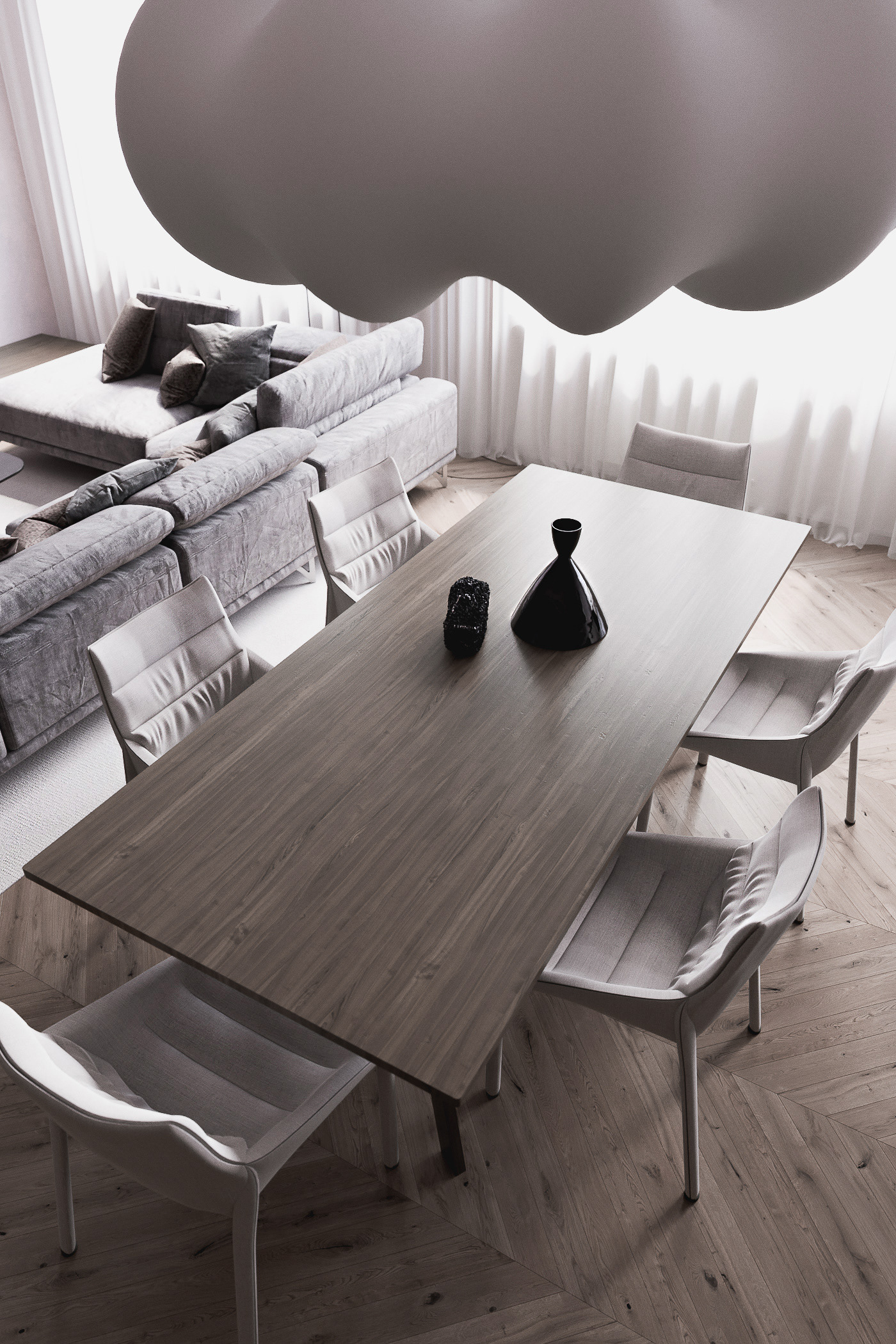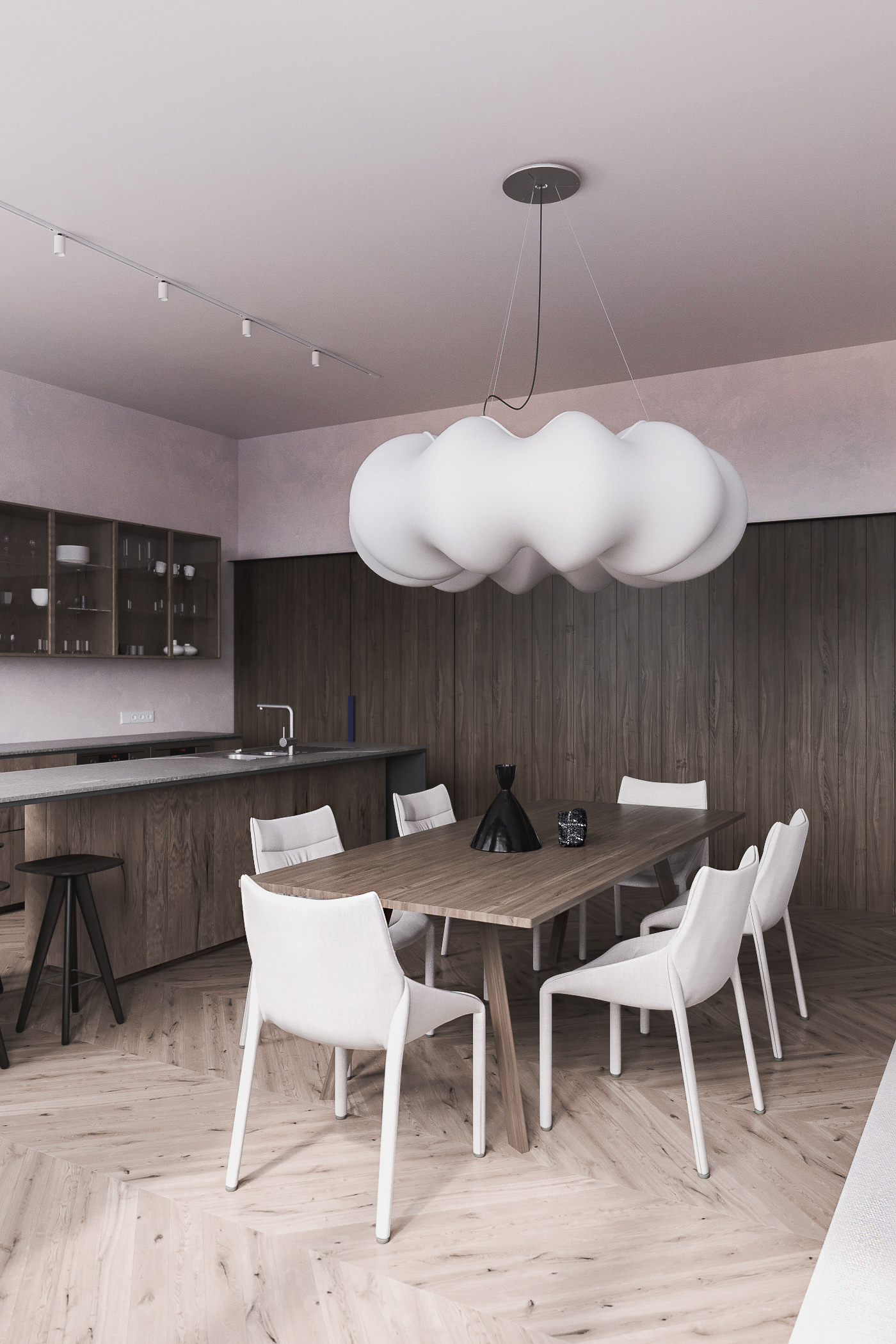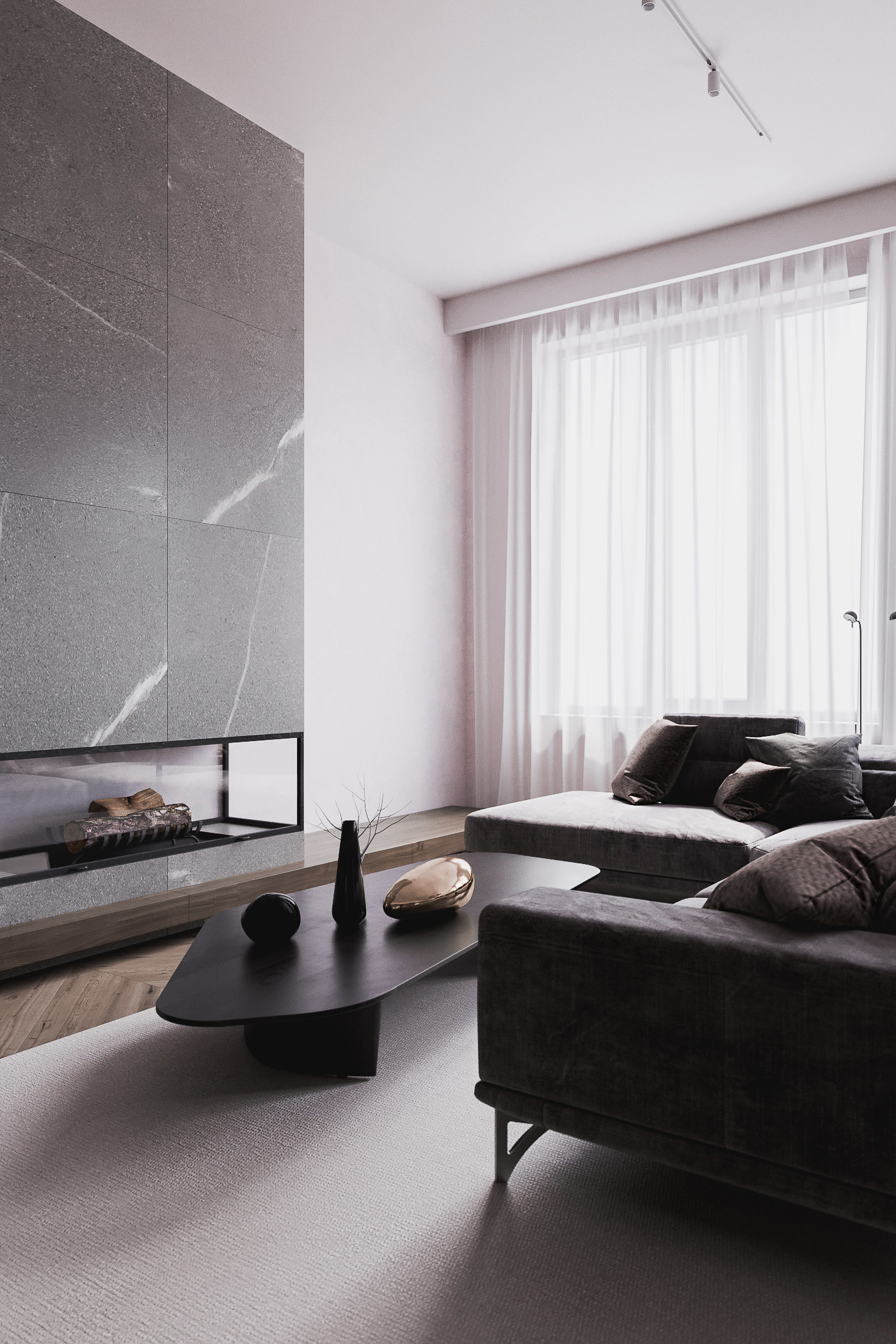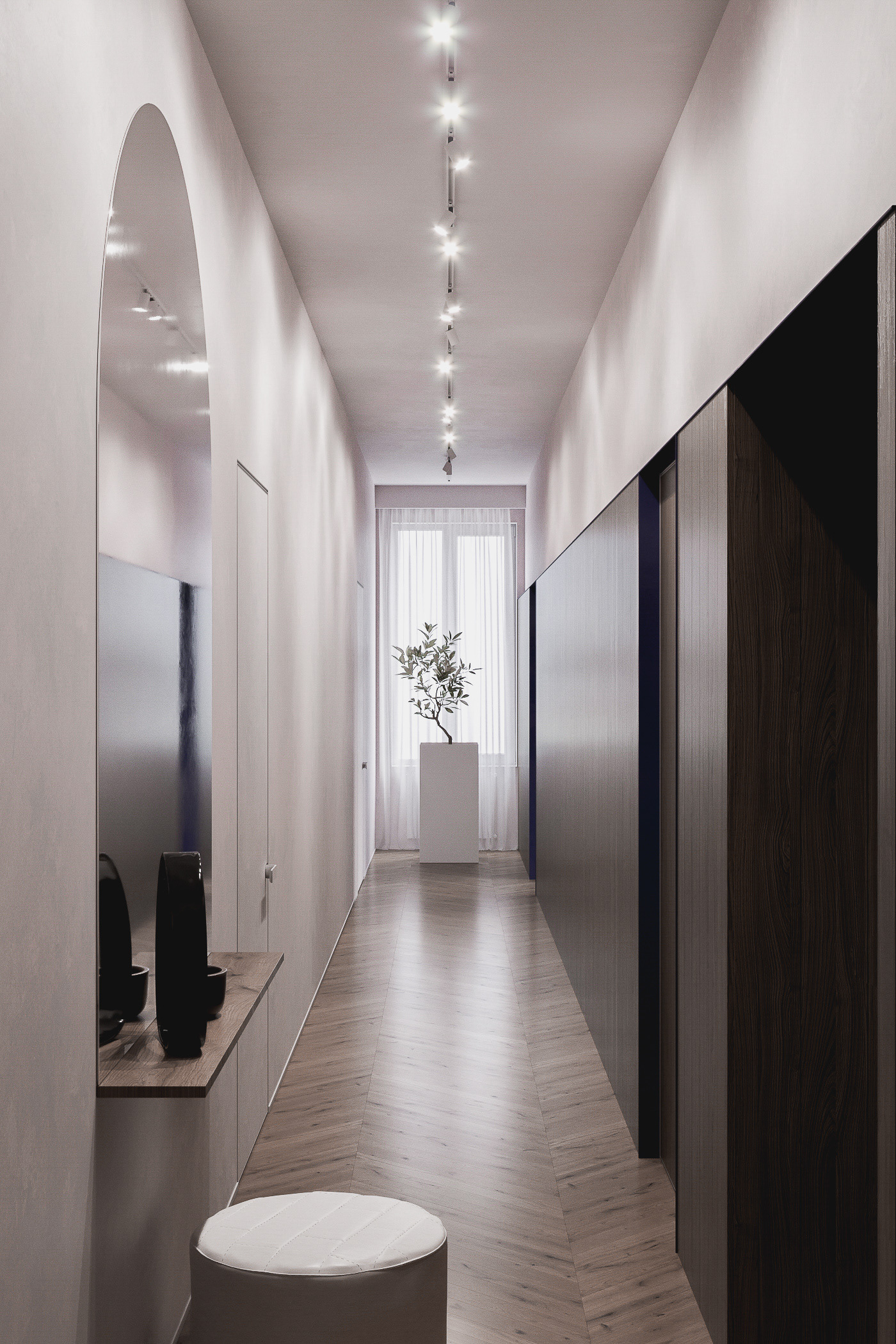 / about kitchen-studio and living room

This big room has three different areas: the kitchen, dining area, and living room. The main idea is to combine all of these areas and make a special main space with wonderful cozy comfort. The customer wanted to make a lovely place where she can do business meetings, parties and to have a great time with her family.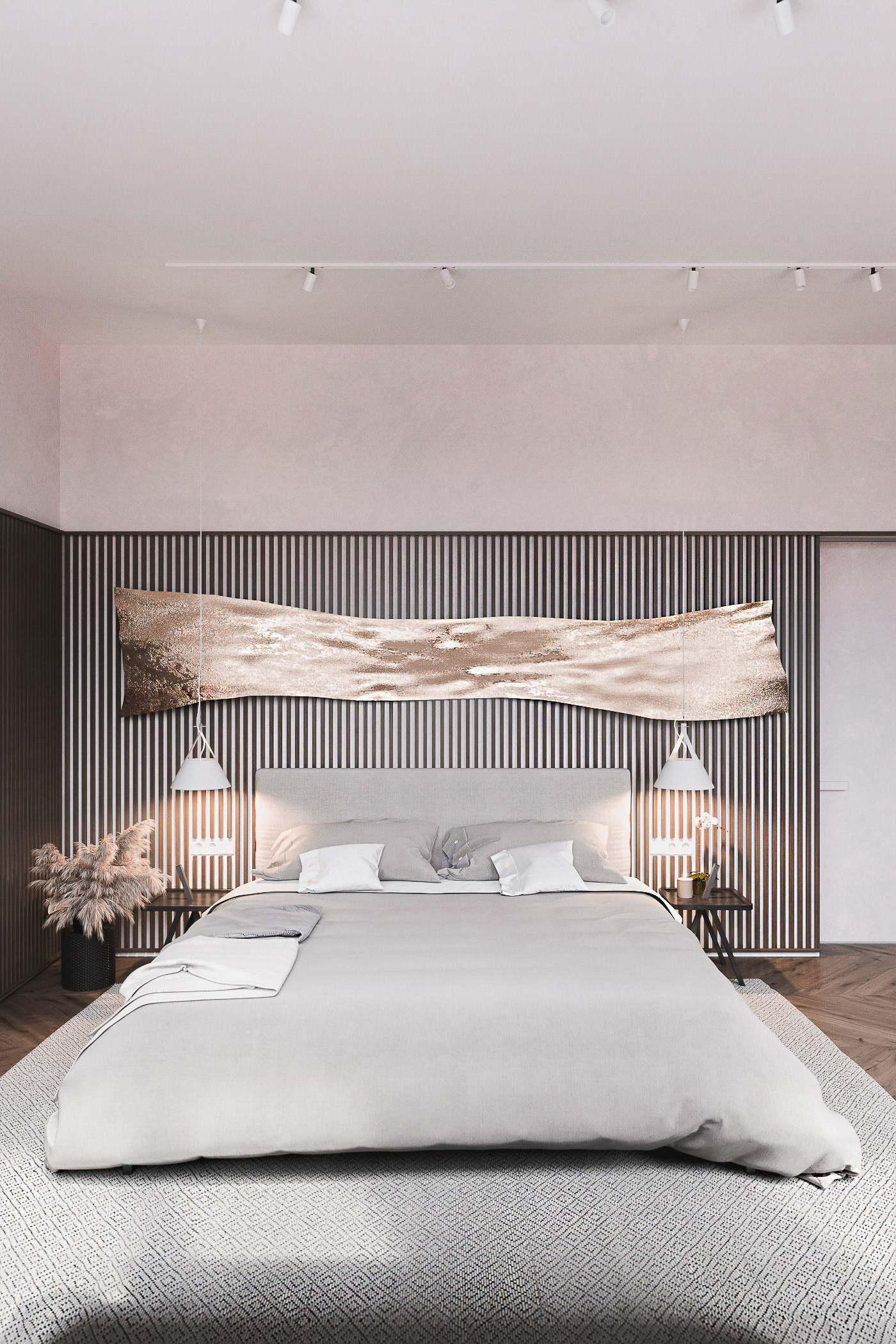 'Yes. Of course, she will use this apartment for having fun with her family. She is a mother at least. So I wanted to make a really nice place for them. Open enough. With a huge sofa and chair. I wanted to set the feeling of Scandinavia but more laconic without useless elements.'
— Ihor, designer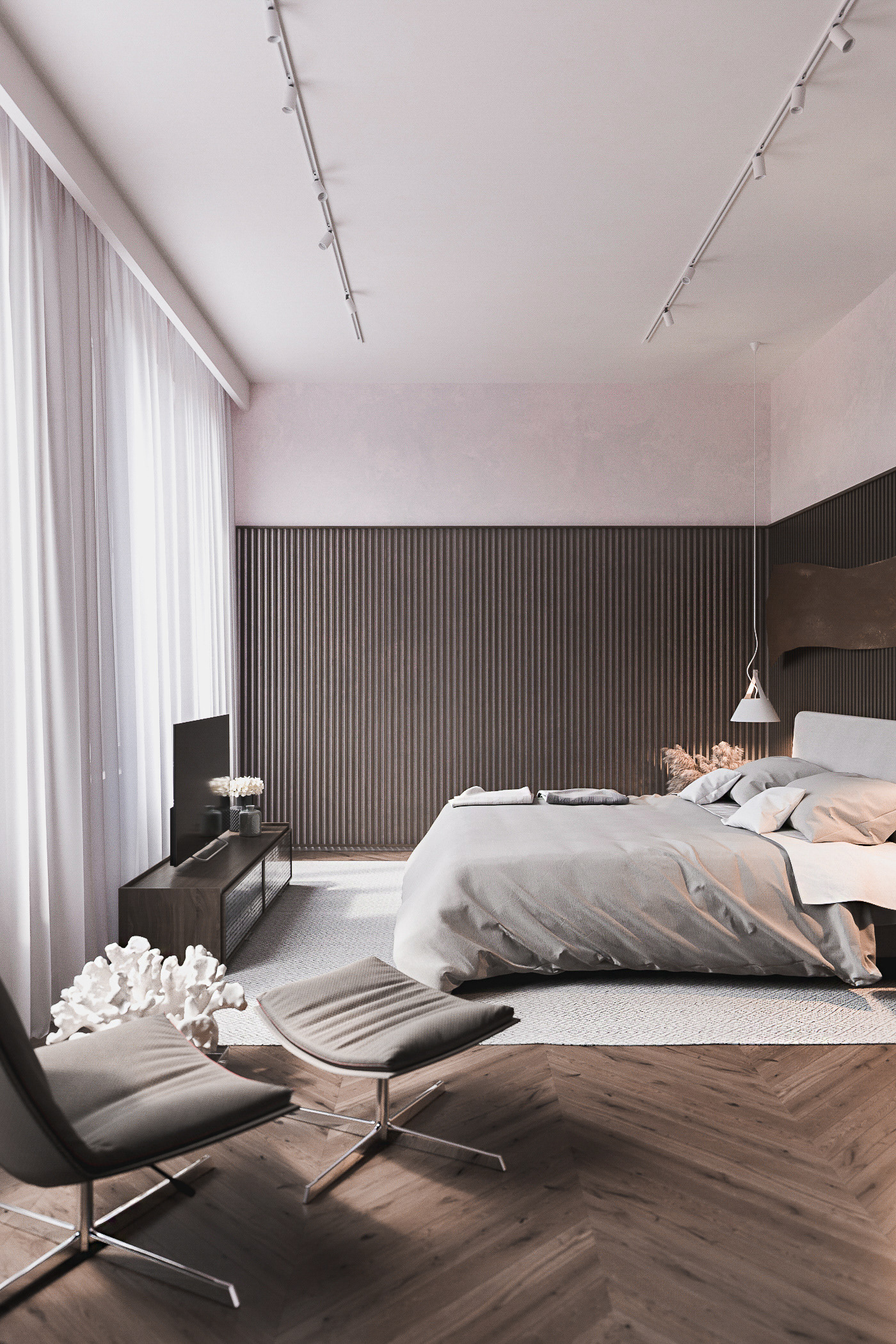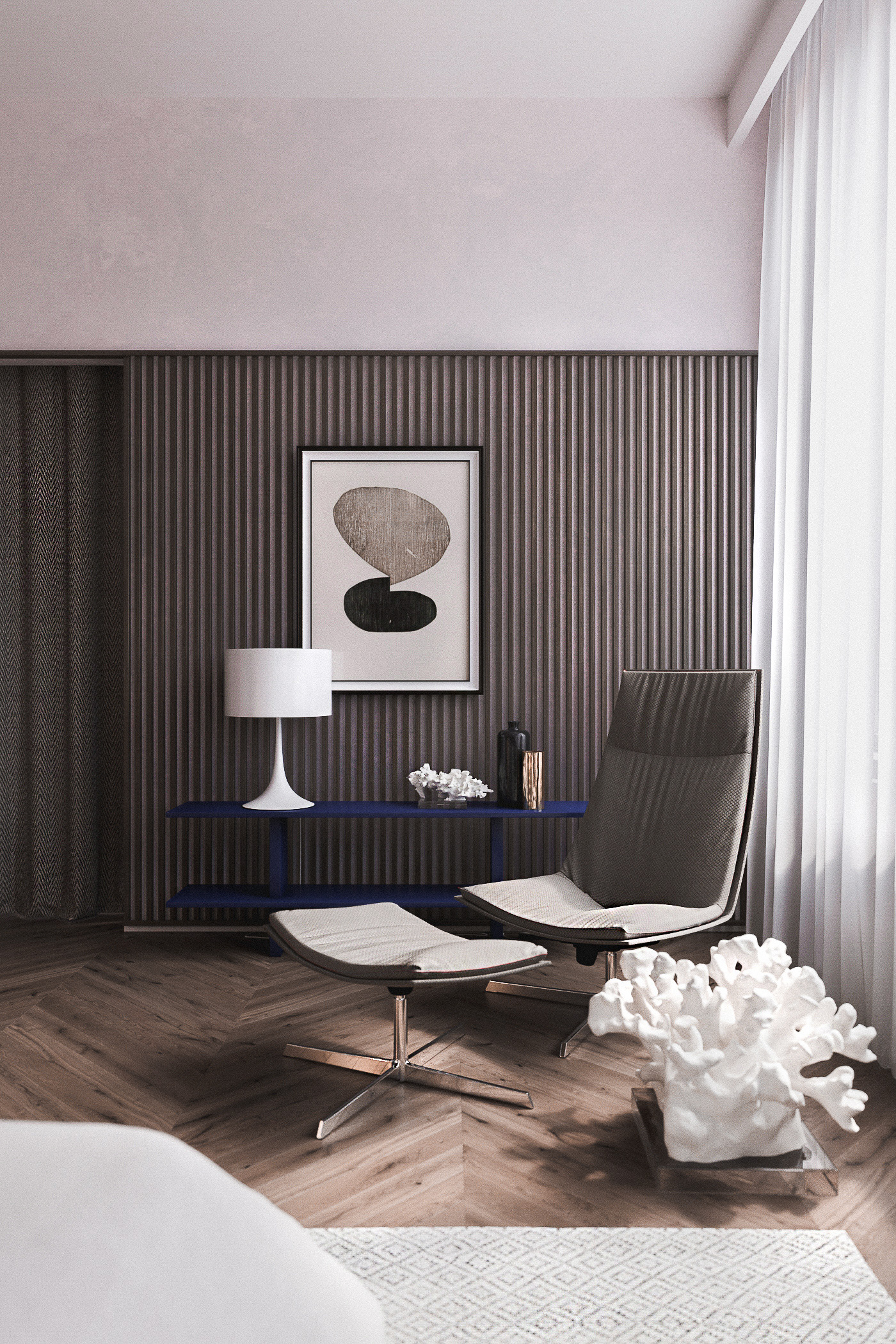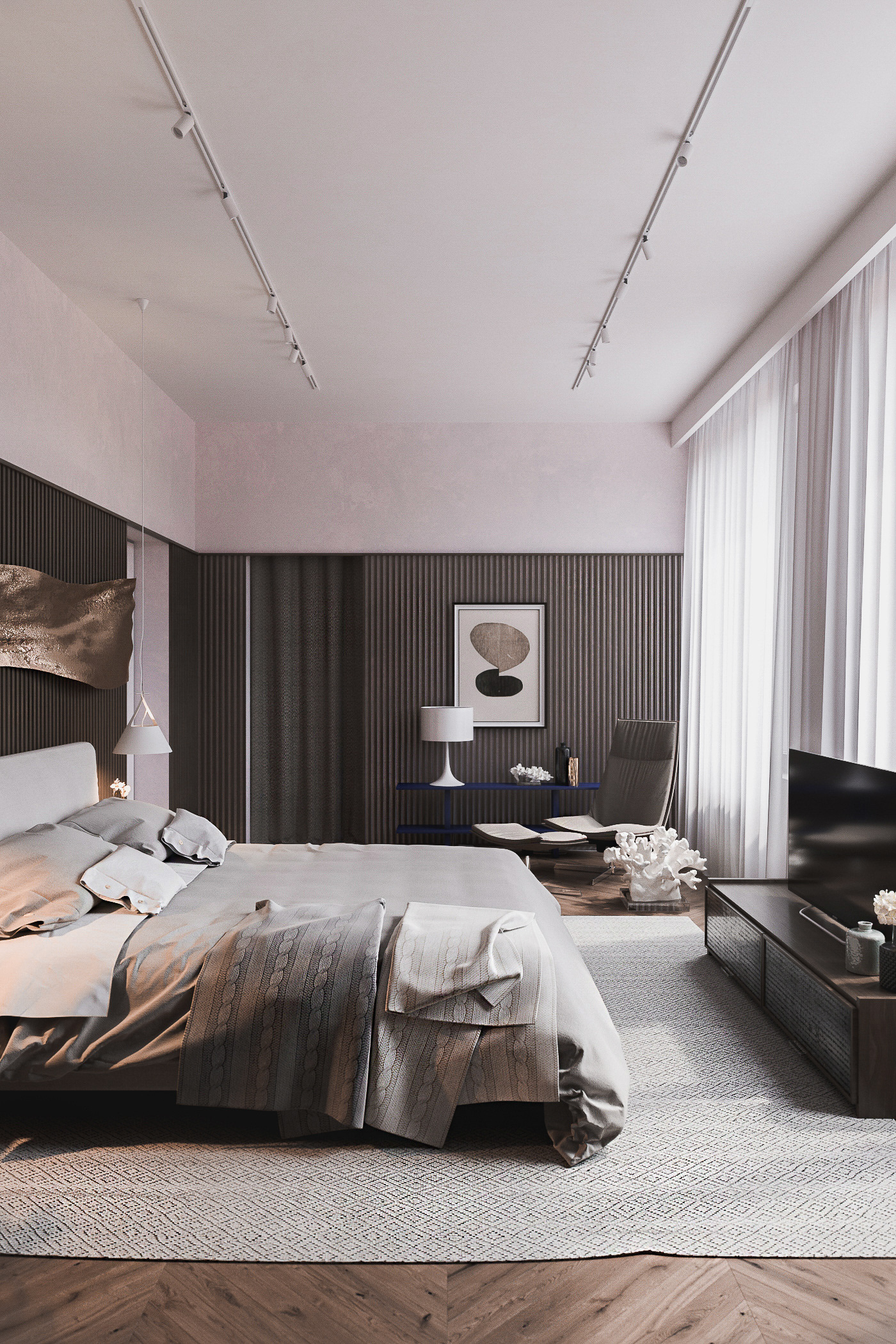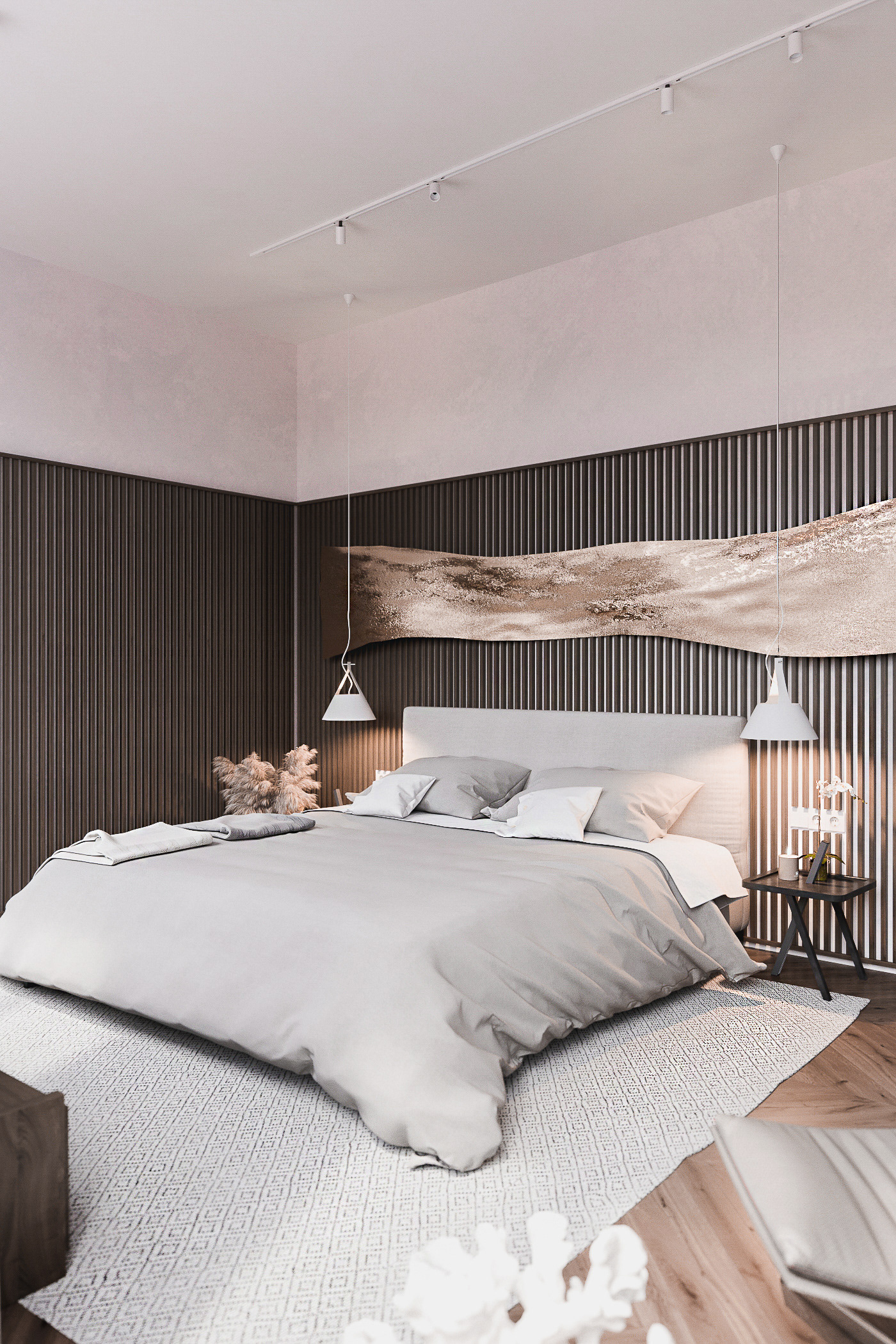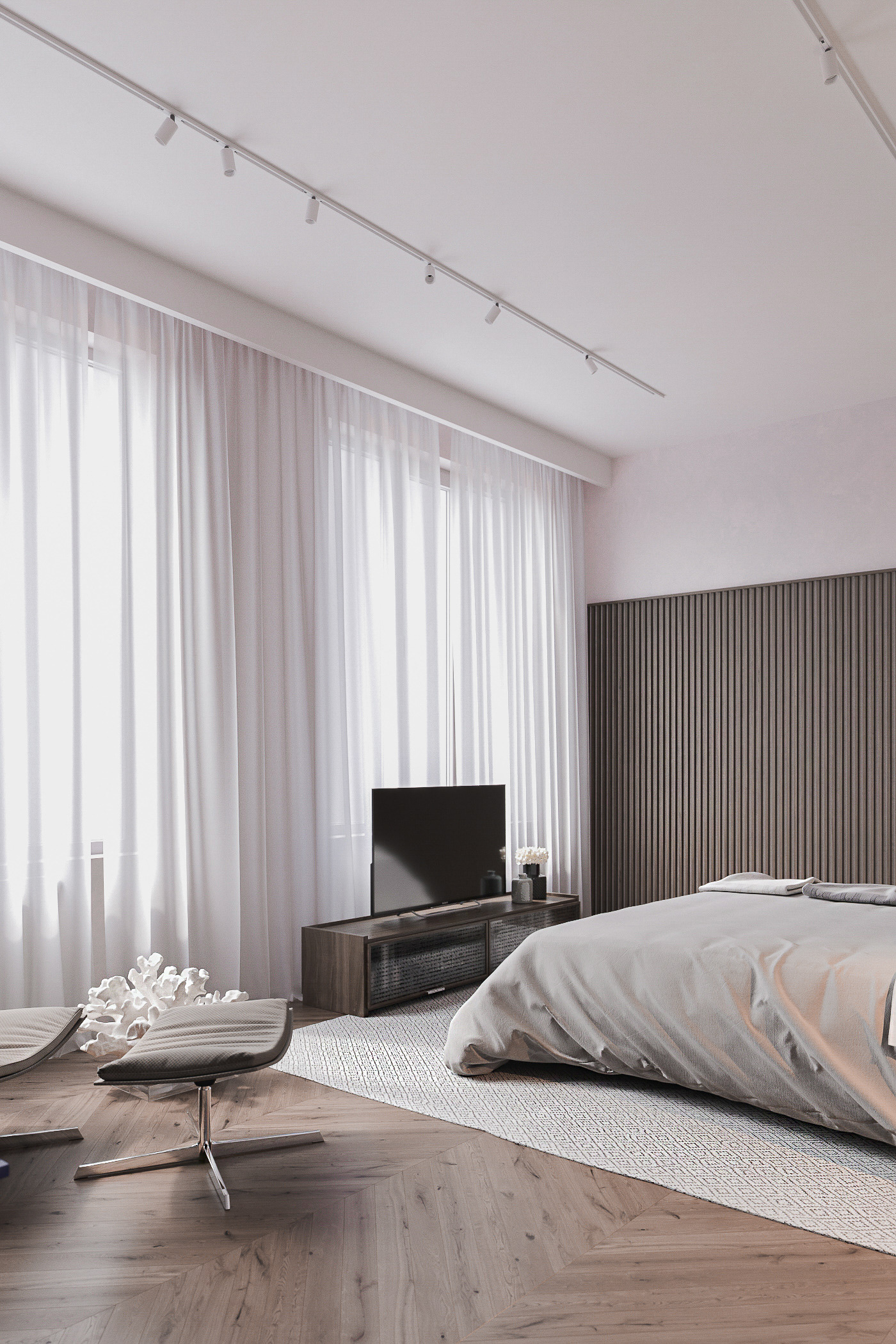 All space separated by the line of colors: white and brown. It helps to make this huge space more comfortable and laconic. All interior has this wonderful line on the wall. This line made in natural wood and framed in blue metal. Love this detail so much. Also, this line helps to make more creative entrance area. This area looks like a part of the museum. Museum of the minimalism.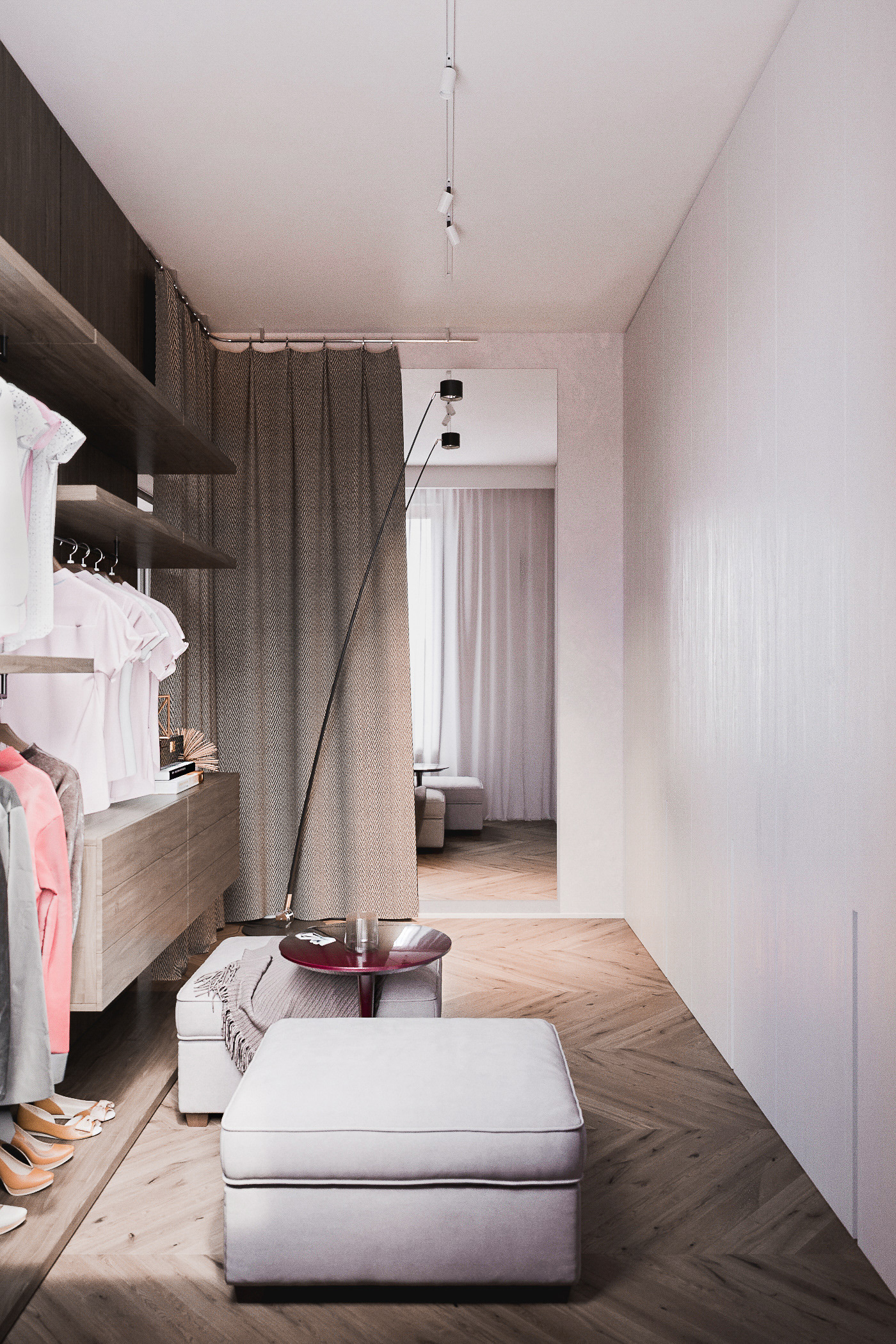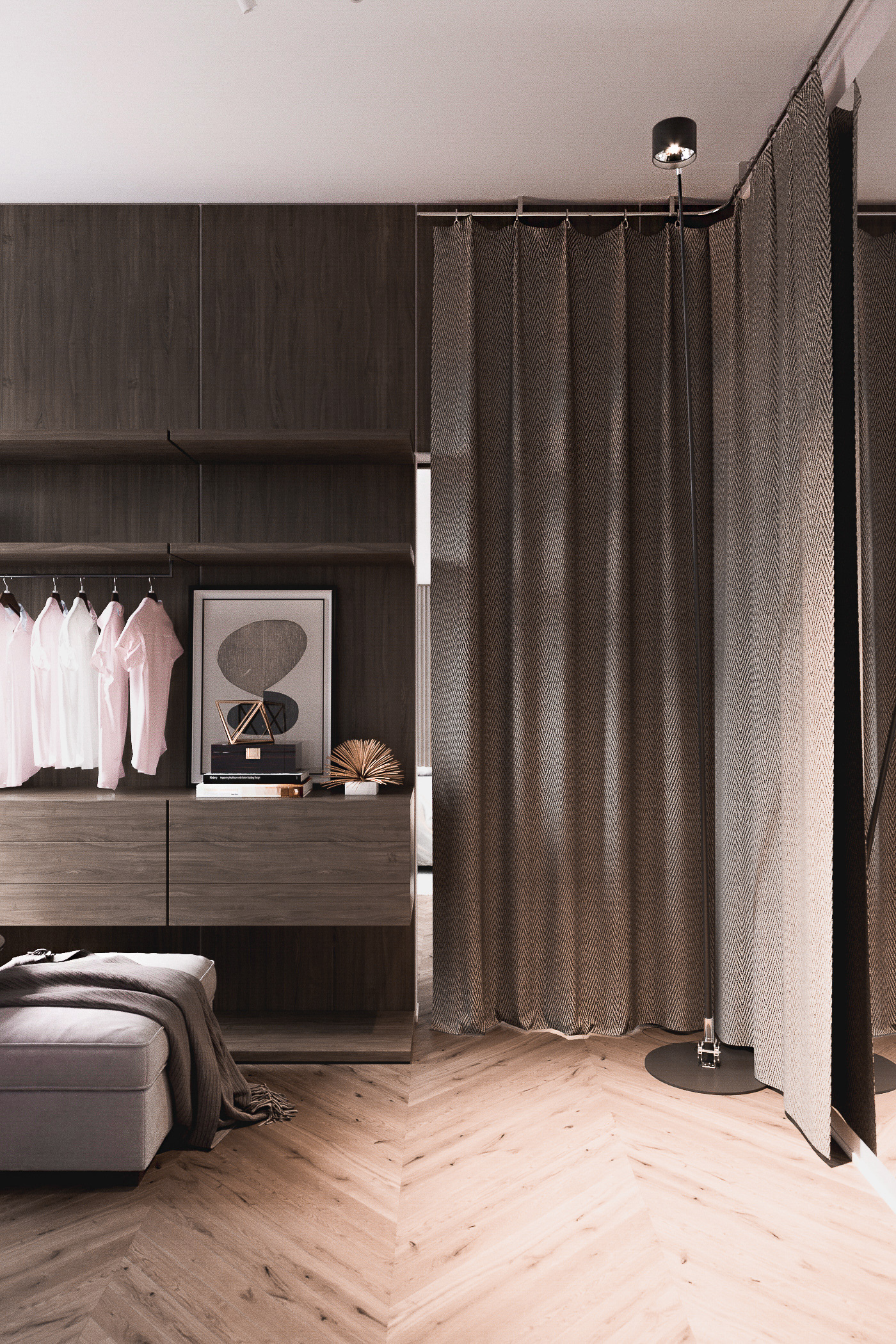 / about the bedroom, cabinet and dressing
This place feels like an art. This wonderful wooden texture combines with gray and white textile. You should see this cool deep blue color and the white sculpture of Coral from the sea. This bedroom is cozy, comfortable, lovely. You can see the lamp Salamp near the bed. It's designed by Ihor Havrylenko too and you can find all the information about this product right here - 
Salamp
.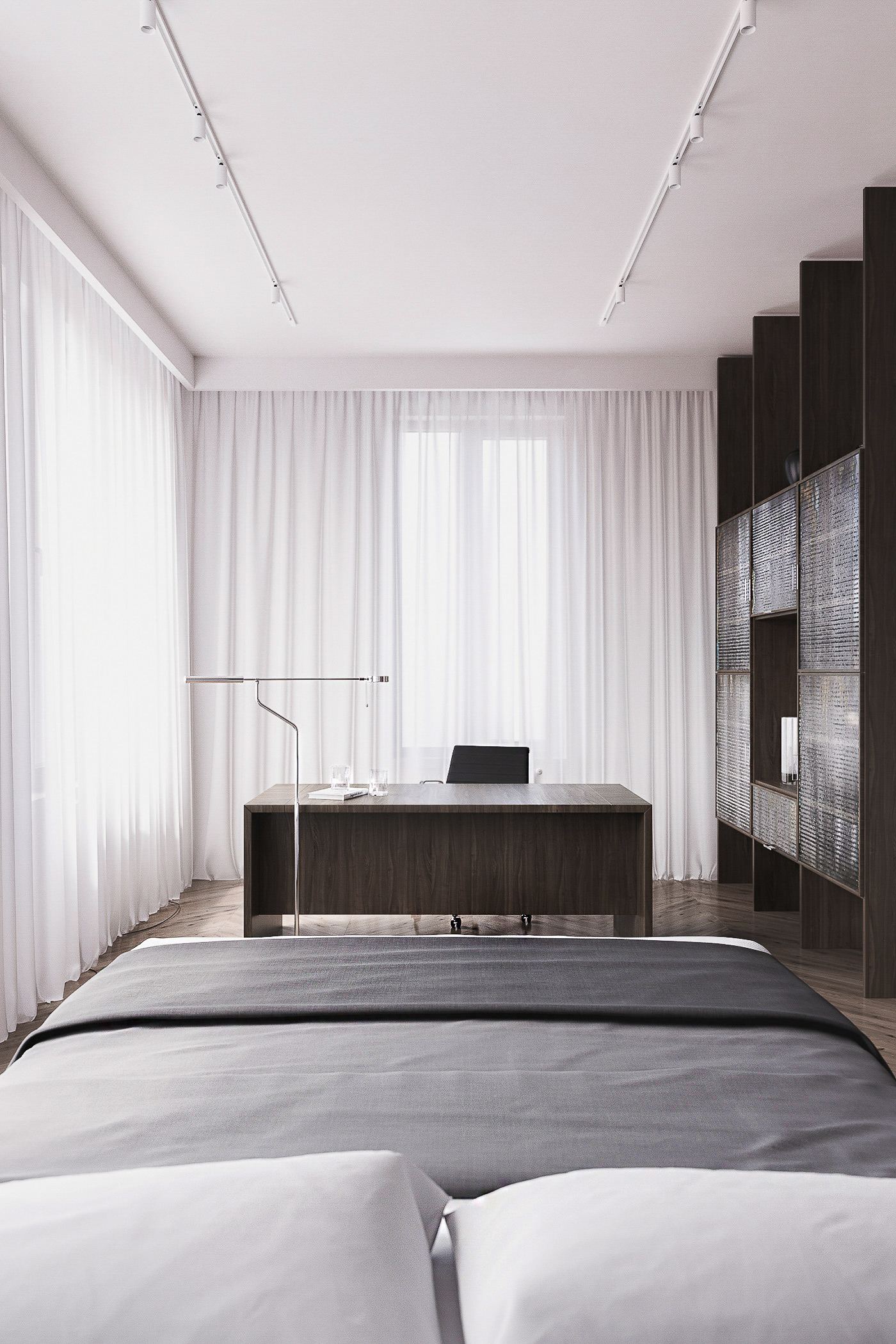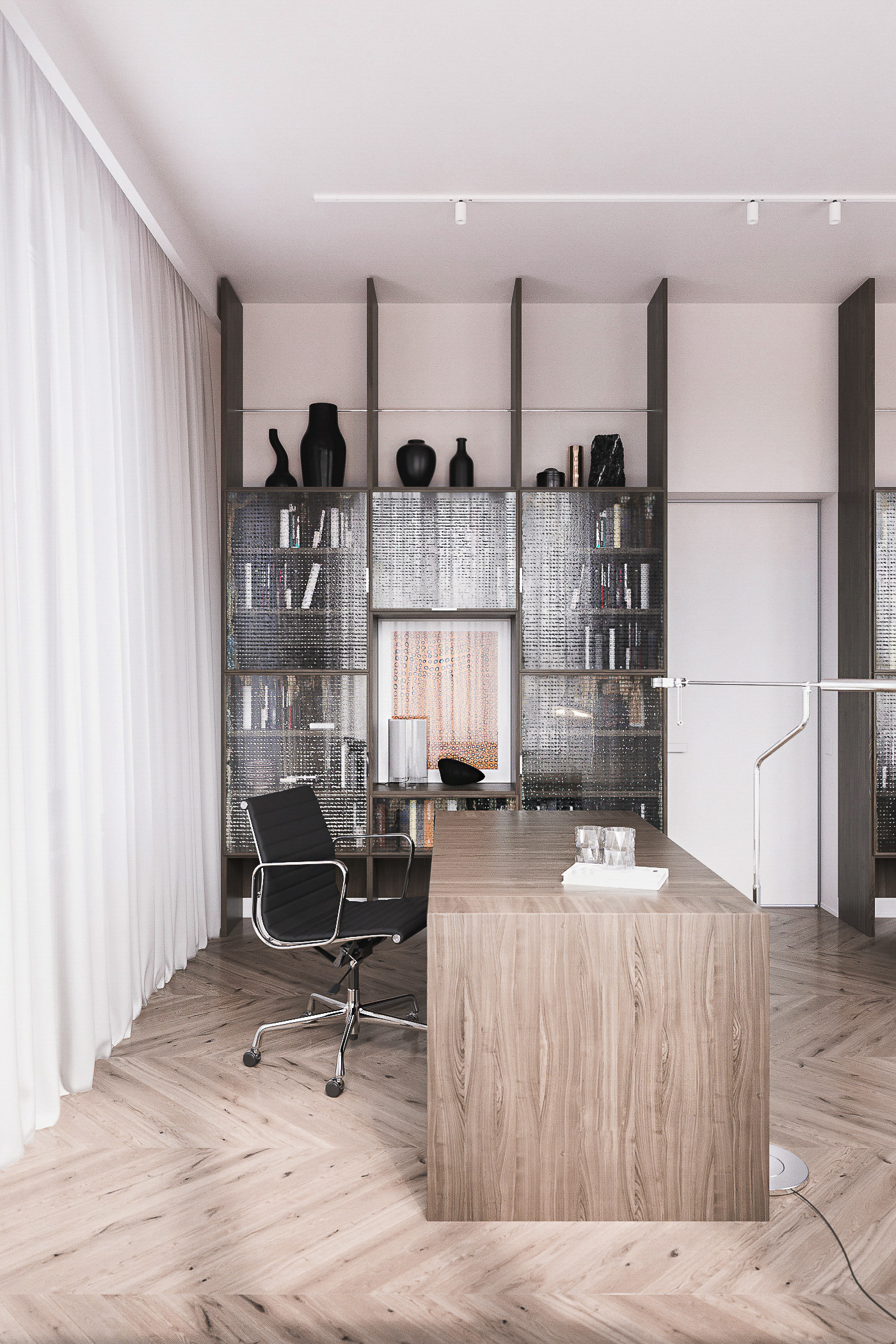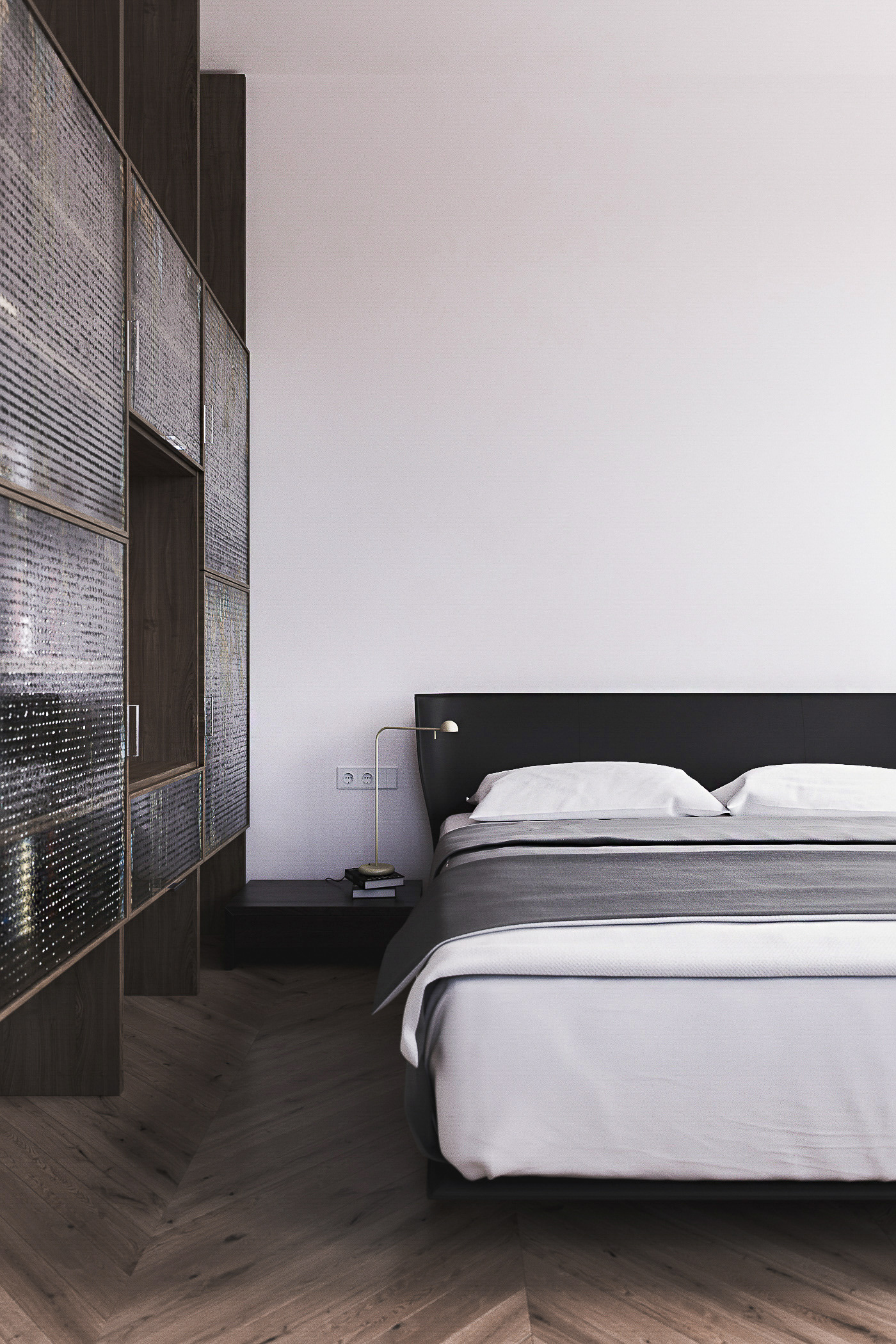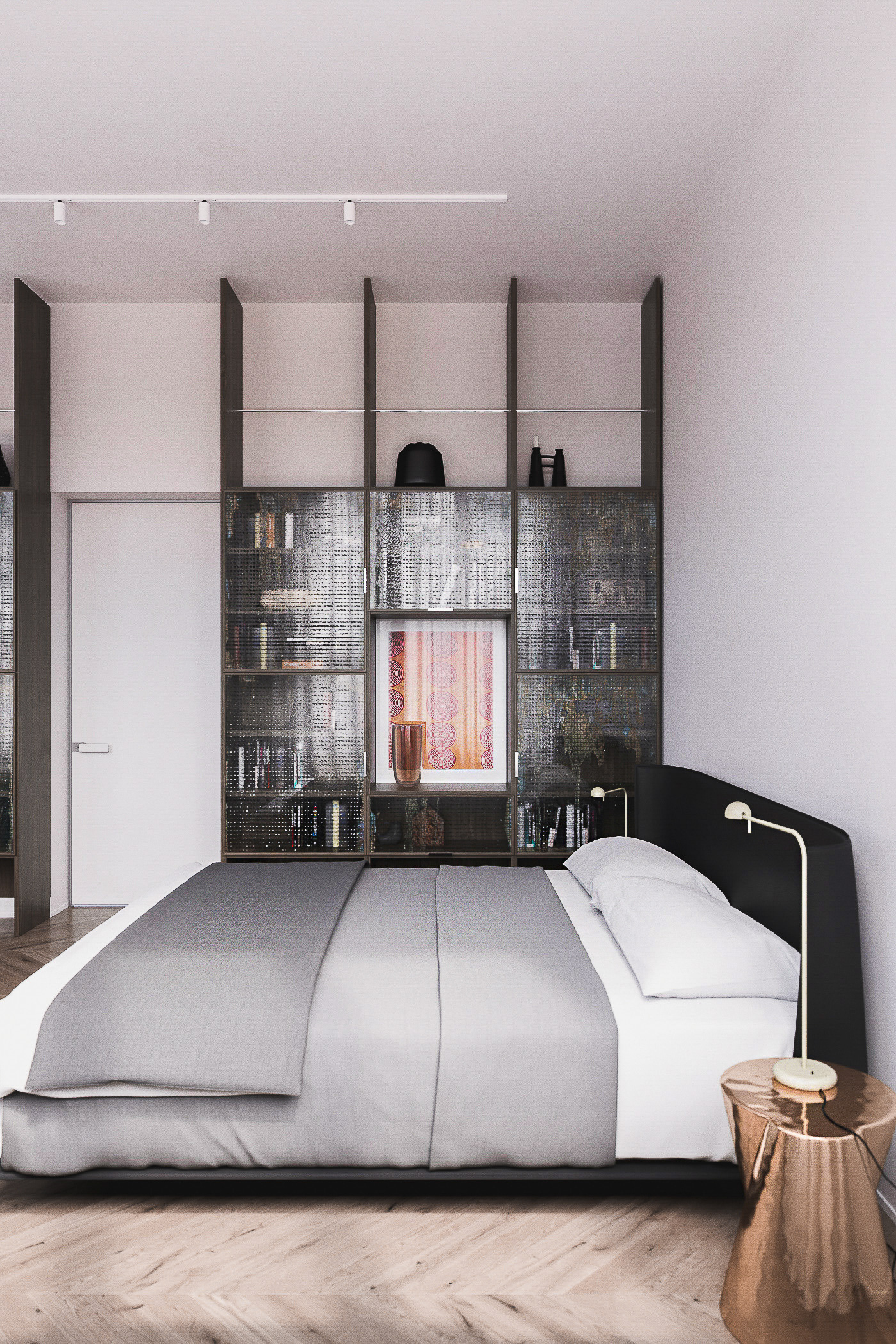 'I tried to use gold elements as an accent. It's not true gold but it looks like. I think this material is the best way to add to the interior a little classic beauty.'
— Ihor, designer